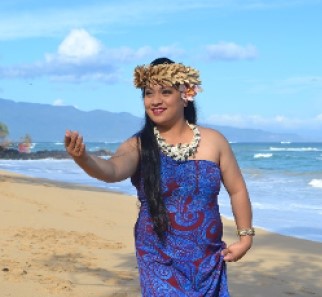 Hawaiian Cultural Experts
---
Melody Canto Masoe was born and raised on the island of Maui. She started dancing hula at the age of 10 under the direction of Napua Greig with Halau Na Lei Kaumaka O Uka. Hula quickly became a love for Melody as she competed in various hula competitions and performances including Hula O Na Keiki at the Ka'anapali Beach Hotel. In 1999, Melody got accepted to board at Kamehameha Schools Kapalama Campus where she began to dance for Kaleo Trinidad and Snowbird Bento in the performance arts department. It was there at school on Oahu, where Melody learned to love choreographing hula. Being able to express stories through dancing soon became her passion.
In 2003, Melody graduated from Kamehameha and moved to Hawai'i island to attend the University of Hawaii at Hilo. Her first job out of High School was as a hula dancer at the only restaurant in Hilo town that had nightly hula and music. On her first night of work, she danced she was blown away by Kaniala and his musical talents. Since then, they have been inseparable. That was the beginning of so many wonderful things.
Skills / Competencies
Get In Touch
Kaniala Masoe and Melody Canto married in 2006 and started a family. They relocated their family from Hilo to Maui in 2009 in order to further Kaniala's singing career. Kaniala and Mel decided to take a walk through Ka'anapali to hunt for live hula and music because they didn't know where to start looking for musician work. Kaniala began singing at the Ka'anapali Beach Hotel's Hula Grill Ka'anapali and was also exposed to the Wedding Industry, where he and his music were admired by couples from all over the world. Melody and the kids would join him as hula dancers on some of his engagements. Their children were introduced to Hula at a young age and attended as many performances as possible with their parents.
Kani and Mel both have the same goal: to live by Hawaiian ideals and to keep their culture alive through Hula and music. They've turned their passion for performance into a production crew of dancers and musicians who are all working toward the same goal. They don't have a work team; instead, they have one huge work 'ohana. Many brilliant individuals may be found among their performing 'ohana, contributing to their outstanding and well-balanced product that showcases authentic culture. Their group's cohesiveness is evident in all of their performances.
When watching them perform, one may see a variety of chants and dances, as well as Kaniala's original songs and chants. 'O Moloka'i,' a chant penned by Kaniala as a tribute to Laka and the island of Moloka'i, is one of our favorites. Tradewinds of Aloha, a wonderful hapa haole mele written by Kaniala's mother about the aloha spirit and how it flows through all of us like the cool island trade winds, is another unique song that can be seen during their performance.
All of the dances in the show Huaka'i Luau – Journey Through Polynesia are inspired by Kani and Mel's own experiences as parents, musicians, and dancers throughout the years. It's an incredible way for them to convey their love story in an indirect manner.