Luau in Kihei Maui
The best Luau in Kihei Maui is Huaka'i Luau– Journey Through Polynesia.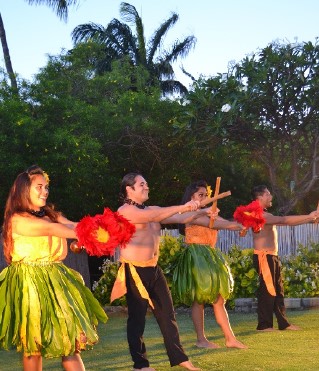 We are the closest luau to Kihei, located in the award winning Seascape Restaurant at Ma'alaea Bay at the Maui Ocean Center. If you are looking for a luau in Kihei, you found it… Huaka'i Luau!
At our Kihei luau, you can enjoy the best Luau on Maui. We provide a show that is both traditional and contemporary with hula dancers, fire dancers, drums, music, and more. Our staff are all friendly and welcoming. If you want to have an authentic Hawaiian experience then this is the Kihei Luau that should be on your list of Luaus to try!
Kihei Luau
Our Kihei Luau show is for all ages and you will have a wonderful time.
As the sun sets, enjoy dinner at our oceanfront restaurant before witnessing the beautiful luau performance on Maui's South Shore. You can get up close to the action with seats right next to where we do hula dances! You can feel the heat of the fire dancer's torches, smell the Luau food cooking, and see all of our beautiful dancers.
There are many Luaus to choose from on Maui but if you want a true Hawaiian experience then this is the Kihei Luau that should be at top of your list! Come have dinner with us and enjoy the Luau!
Our Luaus are available for private parties, business events or weddings. Huaka'i Luau is located in Maalaea Harbor, next to the Maui Ocean Center and is central to both South Maui and Lahaina audiences. Traditionally, luaus in Kihei and Ma'alaea have not existed…until now!
Have you ever gone to a luau?
Luaus are a traditional Hawaiian celebration where people gather to eat, dance and have fun. Often times Luaus include Polynesian dancing performances along with fire knife dances (where you get to see someone swing knives of fire). The best way to experience an authentic luau is by going to the Huaka'i Luau in Kihei Maui.
How does it feel when Hawaiians greet each other with aloha and mālōlō ke ke mai (greetings and welcome)?
When you attend our Luau in Kihei Maui, it's an experience that is unmatched. From the music and dance to the food and drink – there are so many experiences for your senses!
The best Luau in Kihei Maui: Huaka'i Luau
The team behind Huaka'i Lu'au in Ma'alaea is the original team that produced the Huaka'i Luau on Ka'anapali Beach for many years. This Luau in Kihei Maui is the perfect location to enjoy this amazing show with views of the spectacular Ma'alaea Bay and overlooking Maui Ocean Center.
Luau in Kihei Maui: Huaka'i Lu'au
The best lu'au near Kihei is Huakai Luau on the island of Maui that offers a variety of experiences for your senses including food, music and dance!
Luau Maui Cheap
Huaka'i Luau has the best Luau in Kihei Maui. Luau is a traditional Hawaiian party or celebration that includes hula dancing, chanting and music. Come celebrate with Huaka'i Luau Maui Cheap!
No matter what time of year you visit the island of Maui, there are always festive celebrations going on to welcome visitors into the culture. Our Luau tailors to the South Maui audience near Wailea and Kihei, Maui. Luau Maui Cheap is renown for its authentic Luaus with a modern twist. Our Luau in Kihei Maui are always filled with dancing, fire eating and singing.
Come celebrate the New Year at our South Maui Luau on Saturday December 31st celebrating not only the arrival of 2022, but also honoring all that has passed in these crazy 2 years! We are happy to welcome back our friends and o'hana to the islands!
Maui Luau Tickets Kihei HI
Maui Luau Tickets Kihei HI are the perfect way to celebrate any occasion. Luaus are great for family reunions, special birthdays or even just because you love your loved one! Maui Luau Tickets Kihei HI is a unique experience that allows people of all ages enjoy something truly different no matter what time of year it is. Contact us today at 888-LUAU-858 for more information.
Why Should I visit a Kihei Luau?
We are centrally located and the closest luau to Kihei, Wailea and Lahaina/Ka'anapali Beach. Driving to our Maui Ocean Center luau is the most convenient Luau in Maui.
There is no Luau in Kihei that compares to the Maui Ocean Center Luau! The food, entertainment and setting are unmatched.
We offer a range of pricing options for all budgets as well as special discounts for Military personnel.
The Luau show is a combination of traditional dances from different Polynesian cultures. You will engage in singing and dancing with us to create an amazing memory that you can share for years to come.
Things To Do With Kids in Maui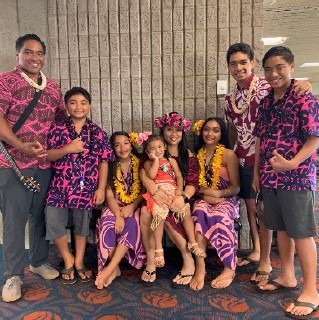 Huaka'i Luau and its VIP Ticket offering is the best value on the island of Maui and Luau in Kihei. As part of the admission price for a VIP ticket to Huaka'i Luau, guests will receive complimentary access to the Maui Ocean Center, one of the most famous attractions in Maui. It is a great activity and things to do with kids in Maui.
In Maui with kids? The is the perfect Maui kids activity. The Luau in Kihei at the Maui Ocean Center includes a huge buffet featuring both traditional and contemporary Hawaiian favorites. The Luau also features two free drinks per guest, plus a cash bar where guests can enjoy alcoholic beverages or non-alcoholic drinks of their choice throughout the show, which runs for about two hours.
Luau in the Rain
Not here! We have a cover at Huaka'i Luau, so we perform rain or shine and its very comfortable!
Fortunately, our Huakai Luau in Kihei Maui is held under cover so you can enjoy the Luau in Kihei rain or shine! Luau in Kihei is a great experience and things to do with kids.
The luau show runs for about two hours, which allows guests plenty of time to enjoy the food as well as their drinks before heading back out into the Maui rain.
For more information on Luaus, call us today at (888) LUAU-858.
Huaka'i Luau – Journey Through Polynesia
Performing weekly Kihei Luau Maui
888-LUAU-858
Home